Mail Boxes Etc. (MBE), is an established network of over 120 stores in the UK and Ireland. MBE is a strong and expanding franchise that offers new franchise opportunities in many locations and emerging business communities.

Working with our world-class suppliers that include FedEx, Parcelforce Worldwide, DHL, UPS and Xerox, we are committed to providing franchisees with the best systems, training and support possible.
MBE Services:

Courier and Shipping Solutions
MBE can handle anything - from small packages of documents to valuable art and antiques. We offer an expert packing and courier service, selecting the most appropriate courier company for a customer's individual requirements.
Copy and Print Services
We offer a wide range of copy and print services, including colour, black and white copies and digital printing; offset printing for business cards and brochures; laminating; binding; and other document finishing services.
Mailboxes
At every store, customers can rent a mailbox with secure, 24-hour access to post and parcel deliveries. This service, which provides a business address, is popular with small businesses, especially those operated from a home office.
Office Supplies and Packaging Material
Our stores carry a wide selection of products, from office stationery to packaging materials.

Etc.
Many MBE locations offer computer time rental services and internet access, complete with printing and scanning capabilities. Additional services include web design, telephone answering services and sending and receiving faxes.
MBE franchise support - unrivalled and all encompassing

Our support for new franchisees includes: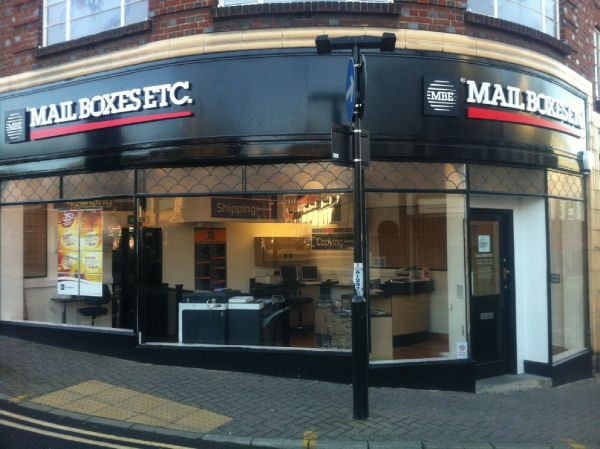 Pre-opening support - site location, lease negotiation, assistance with negotiating essential business terms of the lease.

Centre design and construction - using our modular store programme to produce a "turnkey" store.

Franchise training focusing on all elements of the business and its efficient operation - comprehensive two-week induction programme; two day technical training; three weeks "hands on" training in an MBE accredited training centre; provision of full supporting documentation and manuals.

Financial assistance and business planning - using our excellent relationships with all the leading lenders.

Initial marketing and start-up marketing pack - support to help new franchisees market their business.

On-going support includes:

| | |
| --- | --- |
| | Market research |
| | Introduction of new products and services |
| | Effective supplier relations |
| | Refresher training |
| | Head Office Franchise Support Team |
| | Area franchisees' support |
| | Financial Information |
What does a MBE franchise cost?

Start Up
Precise start-up costs vary depending on many factors, for example location and size of premises. Typically, the cost is around £60,000, of which we require you to have a minimum of £20,000 in liquid capital.

On-going fees
6 per cent Management Service fee and 4 per cent Marketing fee, per month.
The Next Step
If you would like more information on our franchise please e-mail us at franchisesales@mbe.co.uk or have a look at our web site www.mbe.co.uk
---
Mail Boxes Etc. (UK) Ltd.
15 Cromwell Park, Chipping Norton
Oxfordshire, OX7 5SR
Tel: +44 (0)1608 649239 Fax: +44 (0)1608 645483