Blazes Fireplace & Heating Centres started trading in 1990 from its first showroom in Burnley, Lancs. During the 1990s, MD Michael Eyre developed a system of operation that was not only unique within the industry, but also proved highly profitable and ideal to offer as franchise opportunities.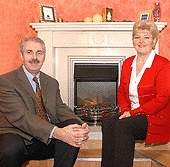 Now with over 50 franchised showrooms trading successfully throughout the UK, a Blazes franchise offers a unique opportunity in the retail sector of the fireplace and heating industry.
We bring a living room setting into our showrooms and offer a "one stop" inclusive service.

The fireplace market is generally reckoned to be worth £300 million per annum. With the demise of British Gas retail shops there are huge gaps in the market place.
Blazes is well placed to take up this slack through appointment of franchisees in all parts of the UK and has little competition in this growth market.
Until a few years ago, a fireplace was seen primarily as a heating appliance but these days, it is considered first as an important centrepiece for a room. The demand for living flame fires is still growing at a rapid rate.

Training is essential to ensure a successful franchisee. Guidance is on-going and is provided at our Head Office Training Centre and company-operated showrooms. Technical training is kept to a minimum and is well within the scope of most individuals.
Knowledge of installation and gas appliances is not necessary to operate a Blazes Fireplace & Heating Centres franchise. Installation work is carried out by members of a nationwide network of qualified installers.
The individual needs of each franchisee are carefully assessed and the training requirements are tailored accordingly.
Whether we like it or not each of us has strengths and each of us has weaknesses. The Blazes training programme has been developed to exploit strengths and to strengthen-up weaknesses.

The franchise licence fee including training is £8,000 and the licence is granted for 5 years. Subject to usual conditions the franchisee may renew at the end of this period. There is no renewal fee.
Average set up costs are around £42,000 and £15,000 must be in unencumbered cash.

| | | | | | |
| --- | --- | --- | --- | --- | --- |
| | STORE 1 | STORE 2 | STORE 3 | STORE 4 | STORE 5 |
| FIREPLACES PER WEEK | 4.5 | 5 | 5.5 | 6 | 6.5 |
| INCOME | 200,000 | 225,000 | 250,000 | 275,000 | 300,000 |
| GROSS MARGIN | 86,000 | 96,750 | 107,500 | 118,250 | 129,000 |
| TOTAL EXPENDITURE | 63,100 | 64,300 | 67,750 | 71,400 | 74,750 |
| PROFIT (BD+T)* | 22,900 | 32,450 | 39,750 | 46,850 | 54,250 |
| TURNOVER/PROFIT% | 11.45% | 14.40% | 15.90% | 17.03% | 18.08% |
*(BD+T) = Before drawings and Tax
These figures are to be used only as an example of what can be achieved, however they are not a guarantee and the franchisee should rely on their own reseach and Accountants figures

We are seeking motivated individuals with a will to work hard and succeed. Our selection is based on a number of considerations including personal and financial qualifications.
Experience in the fireplace or central heating industries or technical knowledge of any kind is not essential. Buying a fireplace these days is a pleasurable experience and our customers expect to be dealt with by personable and friendly people. We look for new franchisees that will blend well with our existing family.

To find out more about opportunities available contact Michael Eyre on 01282 831176 or by email at info@blazes.co.uk
Blazes Fireplace Centres (Franchising) Ltd,
Signature House
21 Parker Street
Burnley
Lancs
BB11 1AP
Tel: (+44) 01282 831176
Fax: (+44) 01282 424411
---

Or if you would like us to arrange for a brochure to be sent to you email us with your name & address


or return to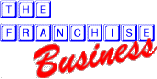 site

The Franchise Business
6 Wight View, Bembridge Drive, Hayling Island, Hampshire. PO11 9LU
Tel: 02392 462111 Fax: 02392 463555
---
Web Site Designed By Arachnid