Who Are We ?
The Principle behind Felicity Hat Hire is extremely simple. Hats of all styles including those designed by many of the world's top leading milliners, are stocked and hired out at a fraction of what they cost to buy. Our headgear ranges from the simple to the spectacular and includes creations by the Queen's milliner, Frederick Fox. Hats which would retail at up to £400 a piece are hired out for just £10 to £40 a time, so the advantages of hiring are obvious compared to buying a hat. Even women who can afford to spend a couple of hundred pounds on a hat prefer to hire one for a fraction of the cost, especially if they're only going to wear it once.
Take A Closer Look
All hats are dry cleaned between each hire and are supplied in attractive "Felicity" hat boxes. Accessories, including handbags and parasols, are also available on a hire basis.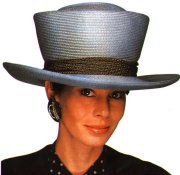 Stock at Felicity's is regularly rotated to ensure that the latest fashion colours and styles are available.
There are currently 80 shops in the UK The first franchised shops opened in 1996, including one taken up by the wife of the company's Bank Manager! The long term plan is to open about 200 shops across the country.
The Investment
With a very low start-up cost £23,000, the franchise entry cost is within the reach of almost everyone. All that is needed is a sense of style, hard work and sound financial housekeeping. Franchisees are selected upon their character and commitment, rather than the extent of their retail experience.
Support and Training
A comprehensive support package is offered to franchisees, including advice about location, rasing capital, production of business plans etc., and full marketing and PR assistance is given. A high standard of presentation of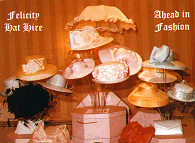 hats and accessories together with active promotion ensures franchisees a high profile wherever a Felicity Hat Hire shop is opened.
Felicity Hat Hire has also established beneficial marketing agreements with the major hat designers and manufacture's in the UK, including the introduction in 1997 of our own "Felicity" brand of quality designer hats. We have a truly formidable range to offer to the consumer.
A comprehensive training course is provided to franchisees to ensure a high quality service to customers and a full understanding of all aspects of running a successful hat hire business with complete confidence.
Why You Should Choose Us
Felicity Hat Hire is set to revolutionise the hat industry across the country, bringing top-of-the range designer hats, such as those worn by royalty and top models, into the reach of every woman in the country, for a fraction of the retail cost.
We believe that Felicity Hat Hire is set to become the fashion success story of the 1990's, and could well duplicate the success of other successful fashion franchises, like The Body Shop and Tie Rack in the 1980's.

To find out more contact Jeff Draper on:
Felicity Hat Hire Ltd.,
2 Howick Park Avenue
Penworth
Preston
PR1 0LS
Tel:(+44) 01772 742428
Fax:(+44) 01772 751757
---

Or if you would like us to arrange for a brochure to be sent to you email us with your name & address


or return to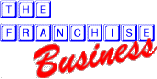 site

The Franchise Business, 18 Chilsdown Way, Purbrook, Waterlooville, Hants. PO7 5DT
Tel: (+44) 023 9225 8111 | Fax:(+44) 023 9225 8777
---
Web Site Designed By Arachnid