The FiltaFry opportunity has been described as the ultimate van based franchise Öhereís why
Internationally recognised business, founded in the UK

Weekly repeat service

Small customer base (30-35) producing excellent income

Based from home

Small vehicle and minimal consumables

Low overheads

Enviable customer base

ISO 9002 accredited company

Comprehensive in-field and business training

Exclusive territory

Simple administration

Head office factoring service

Guaranteed initial customers

Freephone call handling

On going support and advice

Regular contact and information via our owners Web site

We have many franchise owners exceeding the projections.
The Service
Everyone involved in catering will be familiar with the symptoms. The 'blue haze' and unwanted odour that are produced by old and darkened cooking oil - these are the signs that characterise the busy commercial kitchen and indicate a breakdown in cooking oil or fat. The answer of course, is throw away the old oil, clean the fryer, and start again - until now, that is!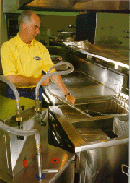 FiltaFry provides a professional service for the on-site filter purification of cooking oil and the cleaning of deep fat fryers in hotels, restaurants, industrial and commercial canteens and all types of commercial kitchens. This service extends the life of oil, eliminates unwanted kitchen odours, improves the quality of food and provides customers with significant cost savings.
Needless to say, our service is much in demand!
As a franchisee, you will provide our much-needed service to restaurants and all types of catering establishments. This service includes, generally on a weekly basis, the filter purification of cooking oil and the cleaning of deep fryers - thankless tasks that any chef will be pleased to hand over to specialists.
The Market
With little competition, the opportunity is immense. There is substantial demand from Hotels, Restaurants, Fast Food Outlets, Take-Aways, School Kitchens, Works Canteens, Hospitals, Food Processing Plants,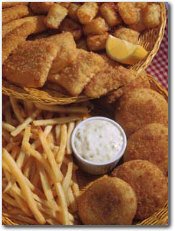 Industrial Caterers, Airports and any other catering business where food is fried.
Catering establishments are keen to utilise a service that will reduce costs, improve food quality, eliminate odours, save time for the kitchen staff and improve safety by eliminating the need for staff to handle hot oil.
The Opportunity
As our existing franchisees will testify, the FiltaFry business is unique, much in demand and highly profitable.
Our business is proven and easy to operate. For the right people, we will provide an extremely lucrative opportunity. You need no specific experience, but you do need to be ambitious with a desire to run your own business and be willing to follow our guidelines and instructions.
As a franchisee, you will operate with a fully liveried vehicle, under the FiltaFry brand, in your own exclusive territory. You will receive all necessary equipment, comprehensive in-house and on-territory training and considerable support.
Support
The training covers all aspects of the FiltaFry system itself, general administration, marketing, finance, the service, health and safety, in fact absolutely everything required to ensure that as a new franchisee, you are able to operate your FiltaFry business effectively from your very first day on territory.
To ensure your success, one of our Business Development Managers will even work with you in your own territory to help you quickly establish a solid base of regular customers. When not working with you, the same person will always be available to help and advise you by telephone whenever you need guidance.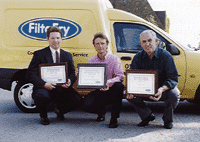 This support is further assisted by the company's committed approach to securing approval from major multiple groups and national accounts. Many household name restaurant groups and other commercial catering companies are already using the services provided by our franchisees. Through our head office sales and support team, we are further expanding our customer portfolio on an almost daily basis.
The Investment
At £18,950 the FiltaFry franchise represents an excellent investment and includes everything you need to get started. The FiltaFry vehicle is provided under the terms of a separate hire or lease agreement.
The Rewards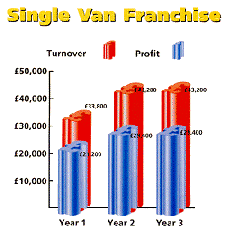 The actual performance of your business will depend on your effort, commitment and enthusiasm.
As an indication however, once established, a weekly turnover in excess of £800 is readily achievable, generating a net income of over £600 per week. The adjacent chart provides a guide to the likely performance of a single vehicle business during the first three years of operation.
If, like some of our more ambitious franchisees, you wish to build a more substantial business, you may choose to expand by operating additional vehicles within your territory. Where this is the case, we will be pleased to work closely with you to help you plan and implement your individual expansion programme.
You will see by now that the FiltaFry business is structured to put you firmly on the road to a successful future. You will also see that the results are high.
The Next Step
The company would be pleased to hear from entrepreneurial business people interested in developing the FiltaFry business within other overseas markets.
If you believe you have what it takes to join us either in the U.K. or internationally take the next step now. Simply telephone Ambrose McAleavey for more details or to arrange a confidential no obligation meeting. The steps are as follows:
Step 1 - complete Franchise Information Sheet and return it, in complete confidence and without any obligation, to The Filta Group Limited.

Step 2 - attend a meeting at The Filta Groupís head office in Crewe, where you will be shown all aspects of the business. If both parties believe they could work together as a successful partnership, the names and addresses of all FiltaFry Franchisees will be given.
Step 4 - The Franchise Agreement will be explained to you and given to you to take away. Legal and professional advice should be taken, as well as discussing the matter with family and trusted friends.
International Opportunities
Following tremendous success in the UK, FiltaFry has already appointed Master Franchisees in Australia, Eire, Portugal and Spain and is keen to expand the business into other overseas markets.
Freephone 0500 06 07 06
---
FiltaFry, The Filta Group Ltd
15 Macon Court, Macon Way, Crewe, CW1 CEA
Tel: 01270 585429 Fax: 01270 583845