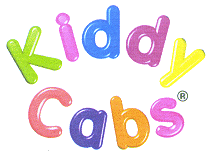 The Concept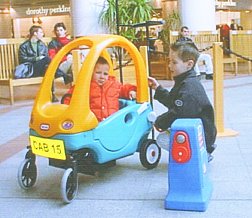 You may yourself be the parent of small children but even if you are not, we all know someone with small children and what a handful they can be when accompanying their parents on shopping trips. What should be a pleasurable experience can turn into a nightmare when toddlers get bored and irritable.
The Kiddy Cabs concept has been devised to alleviate these situations and to make shopping a fun experience for small children. These specially modified toy cars are hired out to visitors to shopping centres and retail parks for a small hourly rate. Fully fitted with safety belts, a working hooter and a key, they are aimed at children between the ages of 18 months to five years. Toddlers already in pushchairs can exchange these for a Kiddy Cab whilst older children who will not go in a buggy are happy to ride in a Kiddy Cab which they prefer to steer (although effectively they are pushed from behind by the parent by the parent). Parents are happy in the knowledge that their children are safe with them and the children are thrilled to 'drive' around in a Kiddy Cab. The shopping centre benefits because happy parents are happy shoppers and happy
shoppers stay in shopping centres for longer.
The Opportunity
This is an opportunity to establish a successful easy to operate business. The main aspects of which are:
Shopping Centre based - The customers come to you
Simple rental business
No competition in your shopping centre
Can be operated seven days a week if the shopping canters open
Massive consumer appeal
Cash business which means you won't suffer from poor cash flow or bad debts
Provides an income 52 weeks of the year
The business can be operated either hands on by yourself or as an easily managed business.
15 Kiddy Cabs are supplied when you commence your franchise
Operational Sites
Kiddy Cabs already operate in the following shopping centres:

| | | | |
| --- | --- | --- | --- |
| | Glasgow - St Enoch | | Swansea - Quadrant |
| | Stirling - The Thistles/Marches | | Thurrock - Lakeside |
| | Livingston- Almondvale | | Crawley - County Mall |
| | Falkirk - Callendar Square | | Aberdeen - Bon Accord |
| | Inverness - Eastgate | | Fareham Shopping Centre |
| | Castleford - Freeport Village | | Gateshead - Metro Centre |
| | Bolton - Market Place | | Dundee - Overgate |
| | Budapest - Campona | | Glenrothes - Kingdom |
| | Newry - Buttercrane | | Hemel Hempstead - Marlowes |
| | Blackburn Shopping Centre | | Croydon - Whitgift |
| | Glasgow - Braehead | | |
| | Dublin - Liffey Valley | | |
The Rewards
The following figures are an indication of the levels of income that can be generated by the Kiddy Cabs franchise. They are not intended to be a guarantee. Actual results will depend on a large variety of factors. We will be happy to discuss this area in much greater detail with you during our initial discussions with you.
Hands on
Minimal Help
Managed
Net Profit
Year 1
£33,499
£30,595
£23,683
The Costs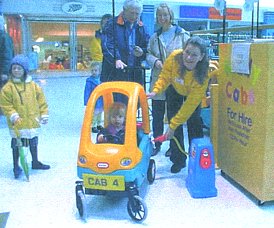 The cost of the initial franchise package including 15 Kiddy Cabs and all that you will need to get started is £9,500 + VAT.
Further Information
To request an information pack and to discuss the Kiddy Cabs franchise further please contact John McNaught on:
01452 310041
---
Kiddy Cabs (UK) Ltd
Birdlip Suite C, Spread Eagle Court, Northgate Street, Gloucester. GL1 1SL
Telephone: 01452 310041 Fax: 01452 314080